Brand Guidelines
Brand Guidelines
Logo
Basics
There are three logo variations, a full-sized logo with the entire company named spelled out with and without tagline and a small symbol with a capital letter D in a circle. The full-sized logo should be used in the header and footer, or in any focal point areas, like a hero.
The symbol logo should should be used in cases where only a small icon is needed.
Logo color & variations
There are two variations of the main logo, a black and a white. The black logo should be used in instances where the logo is set against a light or white background, as in the header of the site. The white logo should be used in instances where the logo is set against a dark or black background, as in the footer of the site.
There are three variations of the symbol logo. As with the main logo, the black symbol is used on a white background while the white symbol is used against a black or dark background. There is also a watermark symbol, which is a dark logo with the opacity set to between 20% and 30%.
Correct Usage
Incorrect Usage
Font usage: Primary Font
Montserrat, all weights
DASH uses Montserrat for its primary or body font. it can also be used for headlines. Saira may be used in the body text when it is necessary to emphasize particular phrases or words.
ABCDEFGHIJKLMNOPQRSTUVWXYZabcdefghijklmnopqrstuvwxyz0123456789
Montserrat
Primary and accent colors
DASH's primary colors are black and white and grey.
DASH's secondary colors include, DASH bright blue, DASH gray, DASH light gray, DASH navy, DASH light blue, DASH dark blue and DASH medium blue.
Primary Colors
DASH Black
HEX#: 231f20
R:35 G:32 B:31
C:70 M:67 Y:64 K:74
DASH White
HEX#: ffffff
R:255 G:255 B:255
C:0 M:0 Y:0 K:0
Accent Colors
DASH BRIGHT BLUE
PMS: 2995
HEX#: 00a9df
R:0 G:169 B:223
C:81 M:12 Y:1 K:0
DASH Gray
PMS: 425
HEX#: 545456
R:84 G:84 B:86
C:65 M:57 Y:54 K:31
DASH Light Gray
PMS: 427
HEX#: d1d3d4
R:209 G:211 B:212
C:17 M:12 Y:12 K:0
DASH Navy
PMS: 5395
HEX#: 152736
R:21 G:39 B:54
C:89 M:73 Y:53 K:59
DASH Light Blue
PMS: 543
HEX#: a7bbc9
R:167 G:187 B:201
C:35 M:18 Y:14 K:0
DASH Dark Blue
PMS: 7692
HEX#: 005686
R:0 G:86 B:134
C:100 M:69 Y:24 K:7
DASH Medium Blue
PMS: 646
HEX#: 5989b2
R:89 G:137 B:178
C:69 M:39 Y:13 K:0
Complimentary elements Icon styles
DASH has two different icon styles. The first is the morse code icon, which is white text on a square black logo. The second is the dashed line icon, which can be seen on the home page and a few interior pages. This is typically fixed in the background for a unique scrolling effect.
Photography
DASH uses both interior and exterior images of homes, as well as images containing people. When possible, exterior images should contain foliage and greenery. Interior shots should include sunlight and accent colors. Photos containing people should show variety and diversity.
Exterior
Interior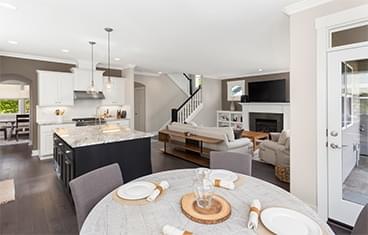 People
Marketing examples
DASH has created a variety of flyers and other marketing print materials. These typically involve bold colors, clear messages, and at times monochrome imagery with pops of color. The aim is for clean lines and clear messaging.
Business cards and email signatures should contain the DASH icon logo or watermark with the text and the morse code icon on the front.
Flyers
Business Card
Email Signature
Website Header